Cloud 9 0-2 years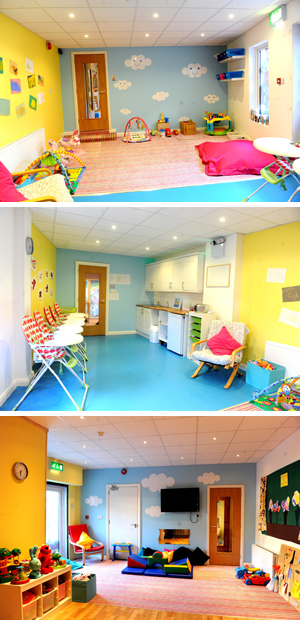 The opening of Cloud 9 is a brilliant addition to Little Kingdom Kids and will put our nursery in an even better position to provide the most stimulating, rewarding and enjoyable childcare environment.
Cloud 9 is the result of a vision to create a 'sanctuary' for developing minds to explore, learn and rest. The new area comprises two large baby daycare rooms with interactive and developmental play spaces including a sensory wall and sunken ball pool. We have built integrated baby sleep suites, which offer easy accessibility for staff while babies rest and additional security alongside our existing CCTV system.
Having these two large rooms will allow us to group babies together according to their mobility, with crawling babies in one room and those who can toddle in the other. This means our team of staff can shape activities which are most appropriate to their stage of development. Our vision was to create a day nursery with a difference – one with a warm, safe and fun environment for children which encourages imagination and fun, but also one which is modern and innovative and will raise the standards for childcare across the board.
In our baby rooms we will deliver a warm, loving and consistent environment, this room will be staffed with the same team of people in order to maintain a close relationship between the child and their key person. The team will always put the needs of the baby first and follow their lead when it comes to play, activity and routine. The baby rooms are designed to offer a calm, peaceful and stimulating environment where they can begin to explore the world. Babies are totally dependent on adults to provide for their experiences and development until they are mobile. Their needs are met with freedom of movement, stimulation and their natural curiosity is encouraged and nurtured. The baby room is divided into two areas:
The messy area, the Babies can experience a number of activities on a daily basis such as painting, sand, water, pasta play, jelly play, play dough and the list goes on! All of these will allow the babies to explore using all their senses and develop their fine motor skills such as, grasping, holding, pincer grip and hand eye co-ordination and most of all having lots of fun!
The comfy, cosy carpet area: in this area the babies will be engaging in a lot of varied activities such as Heuristic play. Heuristic play is a collection natural/found everyday objects such as wood, spoons, pans, shells, string feathers and bracelets. The babies will learn a lot of first hand experiences through their senses such as hard, soft, smooth, spikey, cold and rough.
Sleep room: Each playroom comprises of a separate sleep room within the room for babies which offers extra safety is very cosy and comforting with soothing music played. A member of our Team is present in the sleep room until all babies are sleeping and checked every 10mins subsequently after until they awaken from their nap.
If you require any further information we would happily answer any questions you may have. We do hope you will pop in anytime during our Nursery hours so we can show you round our Little Kingdom and introduce you to our outstanding Team.